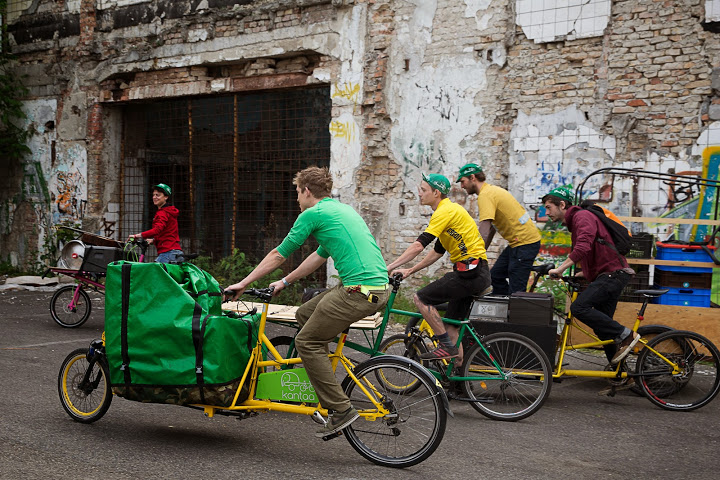 In Budapest, a group of enthusiastic and passionate young people came together to mix their own ingredients, in the form of independent initiatives: an organic and biodynamic farm, Zsámboki Biokert Spaces; a community-based Do it Yourself (DiY) bike workshop, Cyclonomia Spaces; and a self-organised bike messenger and delivery company, Kantaa, with an intended 'spill' of 'social consciousness'. The result is Cargonomia. They look for improving their community by promoting creative socio-environmental alternatives in an urban scenario, where resources and spaces are constantly contested by different actors.
By Isaac Guzman Estrada, in Cooperative City Magazine, April 10, 2018.
In simple words, Cargonomia is a logistic centre for local organic food sales and distribution by cargo bikes made by the organisation itself. The customers access the website, and order either a small or big vegetable box with the option of adding traditional home-made bread from Pipacs or organic wine produced by one of the farmers in Terra Hungarica. The customer has the option of picking it up in the designated locations or having it delivered. In the latter case, every Thursday, the bike messengers get ready to ride the cargo-bike and stock the vegetable boxes, which come from the Zsámboki Biokert, a local farm located 50km away from Budapest. The messengers can carry over 100kg with the cargo bike, the food delivery service reaches out to a radius of around 30kms in Budapest. Finally, the consumers get their fresh organic products locally produced for an affordable price – ranging between 10-12 EUR – and in that way they support the families that work on the farm and other local initiatives.
The founders are like-minded people with a "mutual interest in projects, which have a positive social benefit and the aim of trying to reduce the environmental impact," as Logan Strenchock, one of the co-founders stated. The community around sustainability activities and projects that take place in Budapest is rather small, yet strong and closely linked. That advantage can help communication and facilitate that like-minded people in these movements interact almost on a regular basis. The proximity between the founders has allowed them the opportunity of discussing and developing over time a project, which permitted the crossover of their different independent activities into a win-win scenario.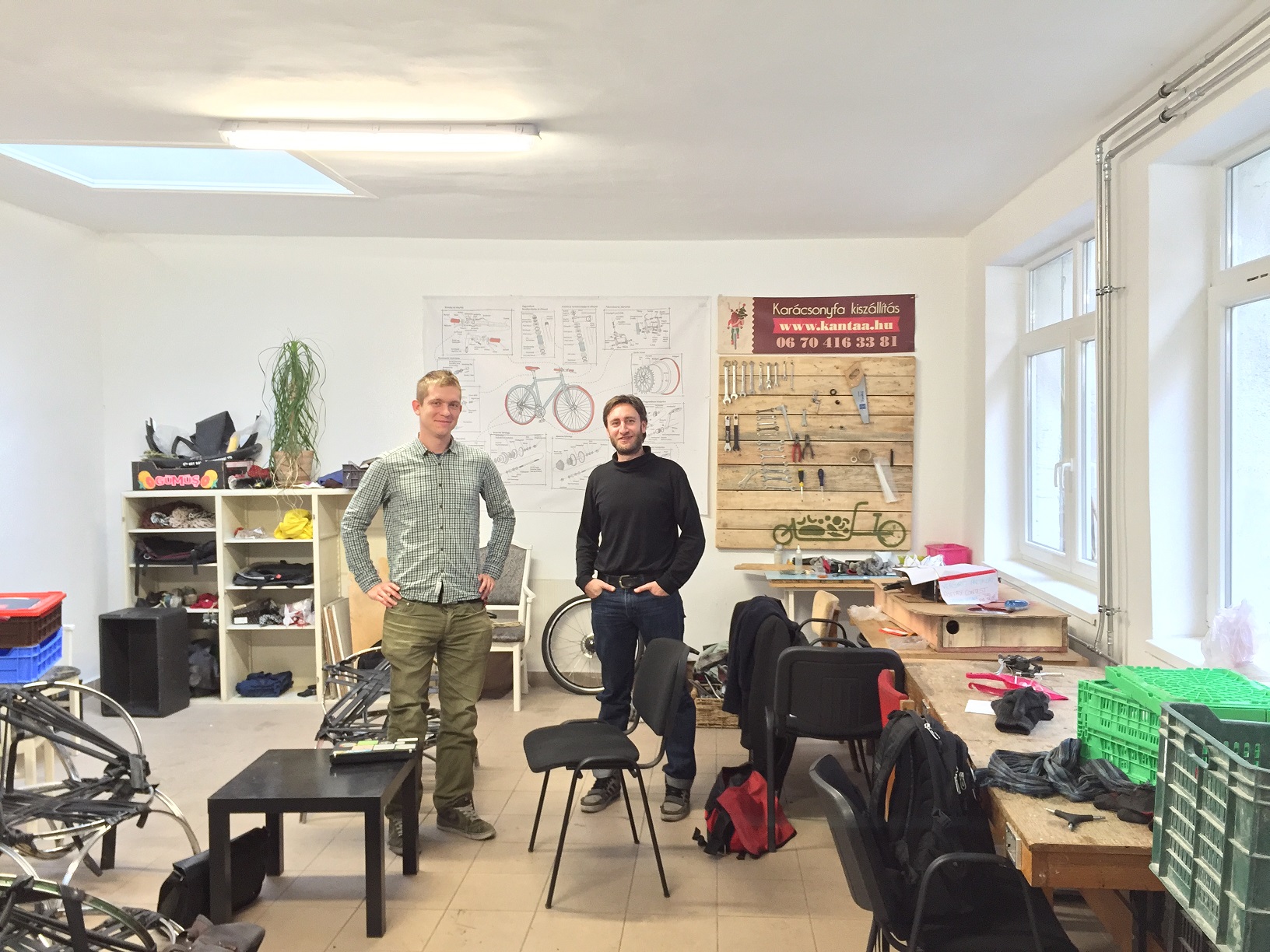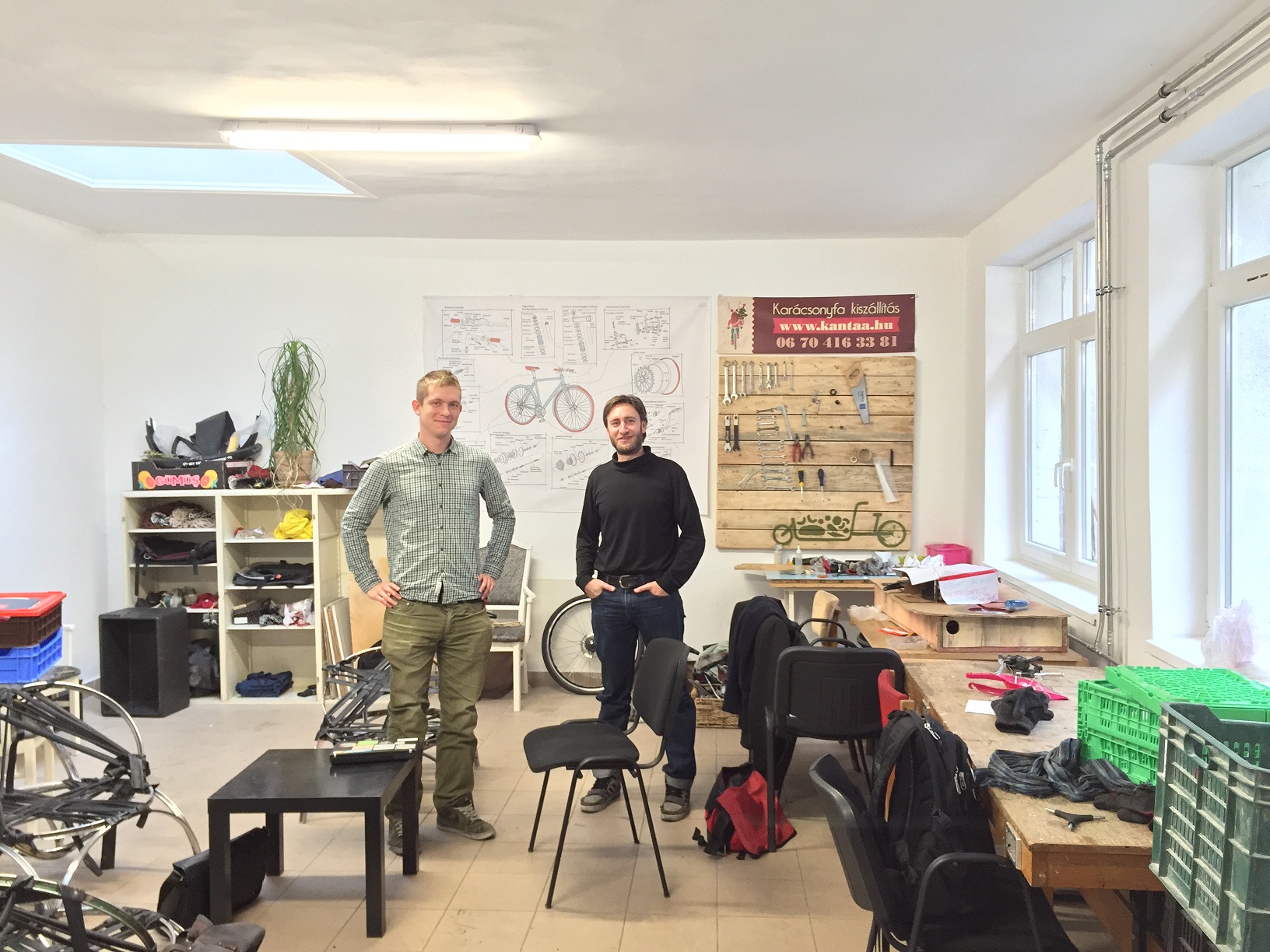 They wondered, "how can we combine the infrastructure and resources that we already have? How can we do something more socially beneficial, without necessarily requiring a huge amount of time or money being invested? How can we combine our activities to build mutual benefit for each other and for other people?" Addressing these challenges, they found the answer in keeping the three initiatives independent and continuing their daily operations with their own budget and their own agenda. For example, while Kantaa continues to be a business-based bike-messenger company, the idea to crossover their activities with Cyclonomia allows them to use and build self-made cargo bikes. These bikes can be used for bigger deliveries, and are instrumental for the integrated vegetable box-delivery system created with the Zsámboki Biokert. This system, based on the use of cargo-bikes and involving some foundations of Community Supported Agriculture (CSA) does not only promote the consumption of local food products providing an alternative urban solution for local organic food access in the city, but also advocates for alternative mobility solutions in the city.
Cargonomia's achievement in pioneering sustainable urban solutions is based on the team's resourcefulness. The core group of people managed to bring together a great variety of competences. Levente Erős – founder of Kantaa – is an expert in IT systems and urban logistics; Adrien Despoisse – co-founder of Cyclonomia – is a transportation engineer; Vincent Liegey – co-author of the book "Degrowth Project" (Un projet de décroissance) – is a researcher on degrowth transition; Logan Strenchock – a partner and business developer of the Zsámboki Biokert – is Environmental and Sustainability Officer at the Central European University; and Orsolya Lazányi is an ecological economist and expert in action research and a PhD student at the Corvinus University of Budapest. According to Vincent Liegey, the independent activities of each organisation and the diversity of their projects give them sort kind of resilience, reinforced by the cooperation and synergies between them. In other words, if some Cargonomia activity has an economically more successful period, it can compensate for a bad period of another organisation.
The core idea of Cargonomia – moving away from the system – is to explore alternatives of how to use their own resources and avoid new types of investments or banking loans. They needed to be innovative in keeping expenses low, and especially imaginative in coming up with different activities to generate income. The founders tend to be invited to conferences or events in order to share their experience and knowledge with Cargonomia. Also, they hold and develop workshops to promote sustainable transition paths in sustainability, which grant them some compensation. Cargonomia itself does not generate profit as the revenue they earn from the vegetable box sales and from holding workshops goes into a common resource pool that allows the organisations to keep operating in the space and pay their rent as well as energy, water, and gas bills.
A big part of the work, including communication, making signs or posters and box delivery is done entirely on a voluntary basis, but it pays off with the social benefit of becoming part of a bigger community. Voluntary work is at the core of Cargonomia's mision: as Logan Strenchock states, "everything here is the product of those people who, in their unpaid free time, get together and meet up, helping to distribute boxes, planning, writing letters, making advertisements for events and developing fundraising campaigns."
Cargonomia's goal is not to be the only cargo-bike food system delivery in Budapest. Instead of trying to become a monopoly and expand their operations, they aim at inspiring other people to experiment with their ideas and replicate their model: to become a 'blueprint' of how people in different fields, with a common vision of social benefit, can come together to offer solutions for some social issues. This allows Cargonomia to keep the scale of their operations at a manageable level, in order not to compromise the original concept of their initiative. For Logan Strenchock, Cargonomia's objective is to provide "a good standard of living to our workers, an admirable high-quality service and a friendly place to work for people and hopefully generate some social benefit."
In 2014, Cargonomia members came up with the idea of opening their physical space, in order to "offer something new and beneficial" beyond their daily operations. The space – opened with the help of KÉK's Lakatlan programme – functions as Cargonomia's new headquarters. Besides hosting offices and a cargo-bike logistical point, the venue also functions as an open space for discussions and repair workshops. The space helps showcasing the symbiosis between different organisations that brought together and successfully implemented a common non-profit initiative with a win-win scenario. As an anchor, to maintain the scale, the degrowth discourse is embedded in the project as a core value shared amongst the members.
The impact that Cargonomia creates in the city can be identified in two ways. On the one hand it produces a direct impact through its daily operation. It fosters and promotes smarter mobility solutions through the use of cargo bikes as an alternative to cars or lorries, resulting in a lower environmental footprint. It also brings local and organically produced food into the city as the most popular box distribution point for its source farm. Furthermore, it promotes local consumption and bridges the gaps between food producers and consumers, by organising the days of Community Supported Agriculture and DIY workshops.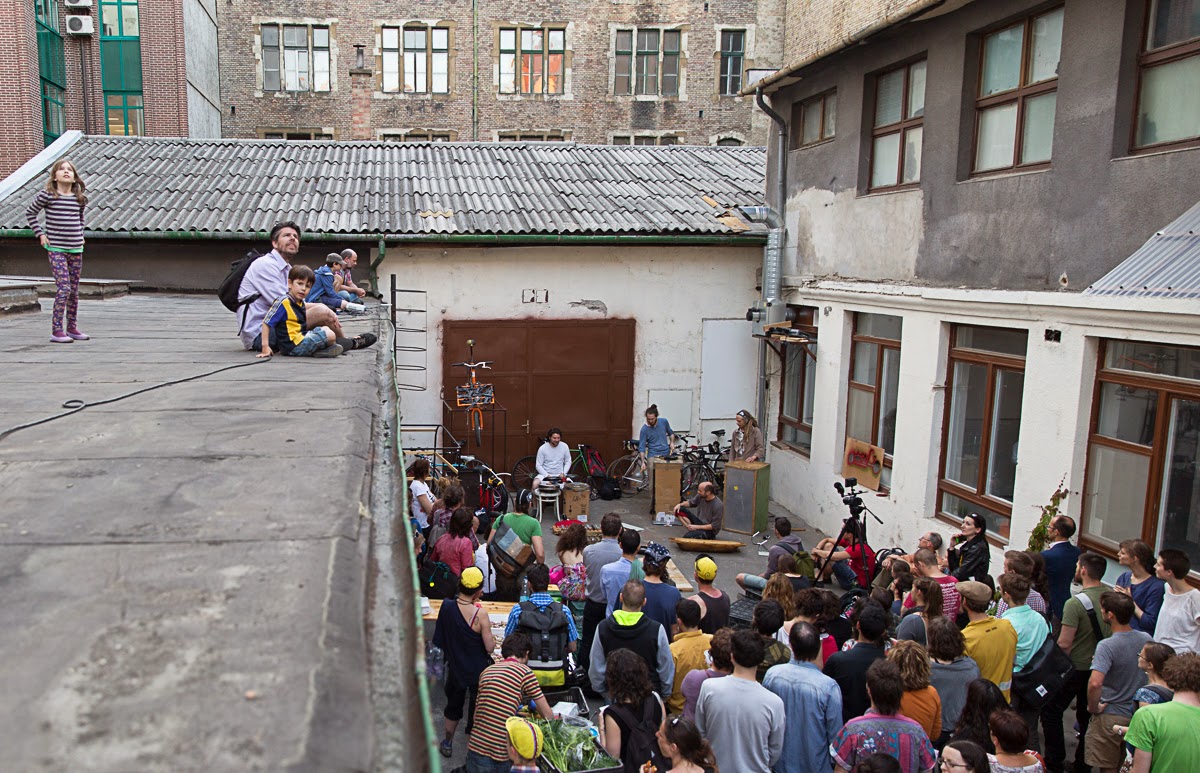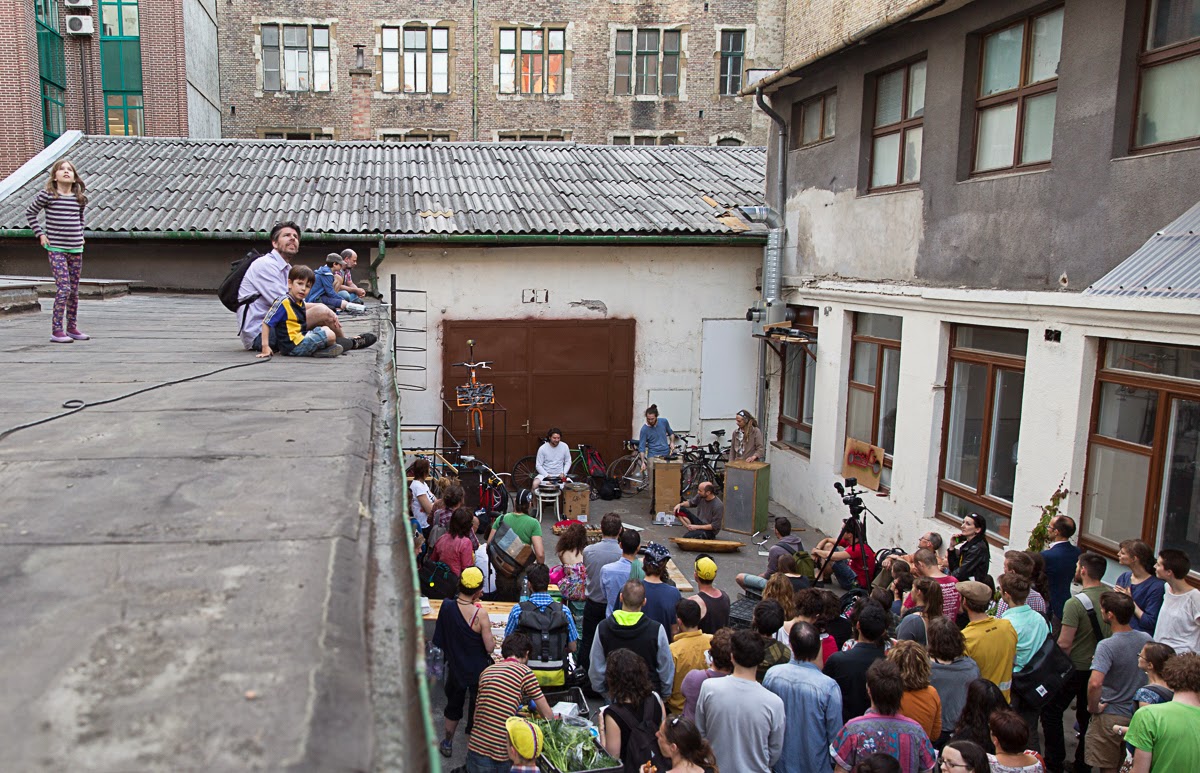 On the other hand, Cargonomia as a venue also creates indirect impact by providing space for dialogue and enhance participation among active social initiatives. It is a channel that seeks to strengthen the connections between members of Budapest's sustainability community. The discussions hosted by Cargonomia raise many questions: What type of city do we want to live in? How can we re-imagine the governance and decision-making in cities with stronger interaction between their citizens? "Through our models of this deliberative urban civil democratic interaction, a way of deciding about things is encouraged, which can then reach the decision-makers, and embolden an equal exchange of ideas, vision setting and transparency," suggests Logan Strenchock. These discussions are an invaluable asset of Cargonomia.
However, moving from discourse to action presents a bigger challenge. Cargonomia's example of putting ideas in practice needs to help other initiatives to incubate new innovative models that deal with other social-environmental issues, as well as to engage public administrations and open dialogue between stakeholders and civic movements.
In order to go ahead with its agenda despite the lack of significant public support, Cargonomia recently launched its Community Cargobike Sharing System. Although since 2015, Cargobikes were available to test and borrow from its venue, making cargobikes more accessible and attractive required another step. In early 2018, Cargonomia members decided to launch an open-source online platform offering the possibility to share and borrow cargobikes and trailers all around the city.
In the past years, Cargonomia was involved in the ARTS (Accelerating and Rescaling Transitions to Sustainability) project that worked on understanding how community-based initiatives can accelerate such sustainability transitions in five European cities. The project aimed at creating a bridge between decision-makers and civil movements in the city through a series of workshops. This exercise raised the importance of involving these movements in public policy strategies. For Cargonomia to contribute to Budapest's long-term vision would be a great achievement. While in many European cities, citizens and civil organisations have been included and listened to in public policy discussions, Budapest still has a long way to go in this respect: there is a severe lack in communication between civic actors and decision-makers and in public support to sustainability initiatives that hinders the civic ecosystem's functioning.